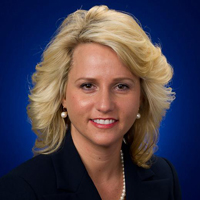 I am running for re-election to continue representing the citizens of House District 92 on the west side of Indianapolis. As a resident and native of Wayne Township, I feel very blessed to be part of a community which values hard work and family. I have a wonderful husband, Chad, and two great children, Kelsee and Cole. Like so many people in our district, my family is my inspiration. I would not be running for office if it were not for the support of family and friends.
If given the privilege to continue representing you and your family at the Statehouse, I promise to put your family first, not a political party's agenda. As the President of the Wayne Township Education Foundation and Co-Founder of Indy Gateway, Inc., I have worked with our students, workforce, and parents to accomplish shared goals in the community. Leading community relations at the Westside Garden Plaza retirement community, I understand the challenges faced daily by our seniors and will work tirelessly to improve transportation and service options.
My experience in business and education has taught me that teamwork is the most effective method of solving problems. As State Representative I listen to every voice in the district, and always ask for your input on issues in the community. Let's focus on the issues that matter to everyone and make sure everyone has the opportunity to pursue a good-paying job, an improved education, and a better quality of life.